As part of a holistic place digital and marketing strategy, we commissioned the purchase and website development of the 20 year old geographic domain name, Milngavie.co.uk
By default we have gained control of the associated domain names Milngavie.uk and Milngavie.org.uk and twitter handle @milngavie.
This is considered a very strong brand identity for Milngavie, befitting our organisation that represents the interests of around 150 commercial businesses. It also allows us to provide a comprehensive platform for all businesses, local community groups, charities and other key stakeholders with an interest in Milngavie to participate.
Strategically, it also provides an opportunity to provide a degree of information co-ordination to local residents and visitors about what our town has to offer, what's happening and what's on. We anticipate Milngavie.co.uk becoming a trusted information resource for people to rely on. As part of this project, we are working with business levy payers so they understand that the platform can be used to reach potential customers at no extra cost.
Every business and group on the website will be provided with their own custom website address and login to manage the content. They will also be able to embed their own social media channels onto their Milngavie page. This means every time they post on Facebook, twitter or instagram, it can also appear automatically on their page on Milngavie.co.uk at no cost.
Milngavie Gift Card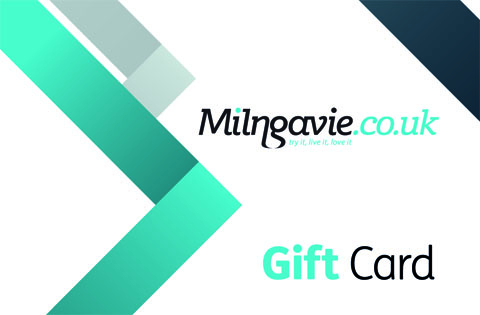 The gift card programme has been successfully implemented in many areas including Glasgow and Edinburgh working with other Improvement Districts.
It's a new, simple way for local people to buy a gift for friends, family and colleagues or for a business to reward their employees.
The gift card recipients can choose to spend their cards across any registered businesses including restaurants, cafes, shops, salons, attractions and venues. As the programme uses the existing MasterCard network, any business that accepts card payments can participate. The gift cards can be bought online and will become part of our marketing strategy, targeting the family and friends of the 40,000+ walkers of the West Highland Way as well as appealing to local people in the greater Glasgow area. Some national retailers are currently aware of these gift cards and accept them in their stores.
There are no set up costs for levy paying businesses to participate in this project. Selected retailers will also be set up to be able to sell the gift cards from within their premises.
Milngavie in Bloom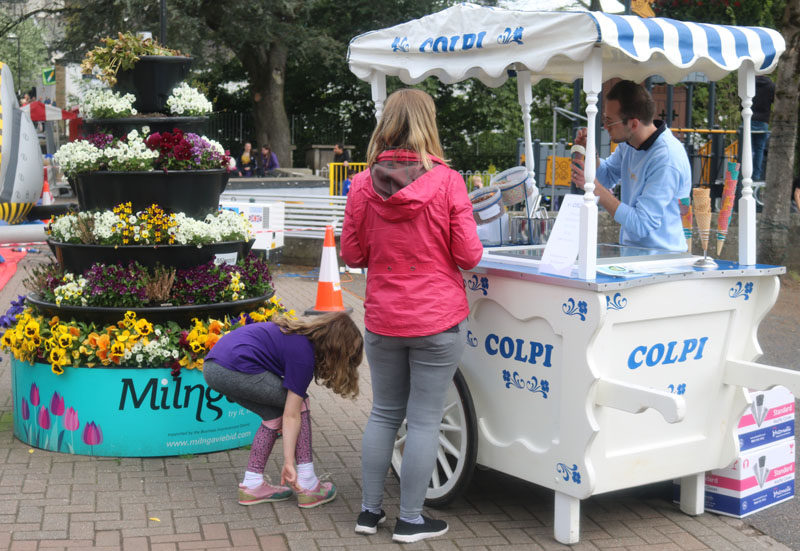 We will continue to fund the purchase of the plants for the range of planters throughout Milngavie that the whole town is very proud of. Volunteers from Milngavie in Bloom continue to plant and maintain the planters and carry out general litter picking at the same time.
Utility Savings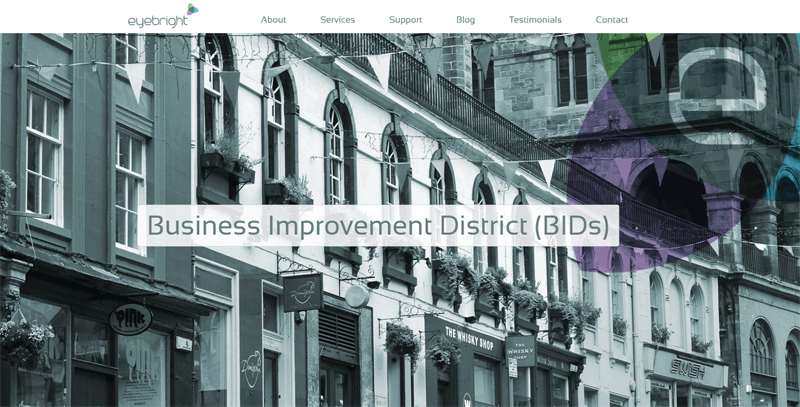 For many businesses, the objective is to make the levy fee cost neutral through working with Eyebright Utilities, who have already presented their services to businesses in Milngavie. This is an example of businesses working together through the Improvement District to make savings on utility costs, telephony and credit card terminal transaction fees. Eyebright Utilities are recommended suppliers to Scotland's Improvement Districts and have worked with many existing BIDs in Scotland. See the list of Improvement Districts they work with.
Property Facelift Scheme
To improve business frontages, all levy payers are eligible for up to 50% of costs to improve the frontage of their property, capped at £1500 whichever is greater. To apply, levy payers can email enquiries@milngaviebid.com for the attention of the BID Manager.